Attention all of you studying Spanish: we have yet again broadened our Spanish course selection! The new Verb Conjugation in Present Tense grammar course focuses on learning to conjugate Spanish verbs, and it's suitable for all elementary-level students as well as those who want to brush up their Spanish.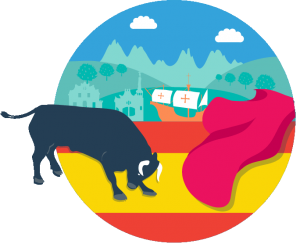 For many, learning to conjugate verbs right seems like a tough job – no matter what the language. In this sense, Spanish isn't the easiest language: in fact, verb conjugation is considered one of the most challenging aspects of Spanish grammar. Did you know that a single Spanish verb has about 50 different inflected forms?
Luckily, with WordDive you can forget about the dull cramming of verb conjugation tables! Instead, exercising is fun and engaging, and you will learn to use the correct verb forms almost without noticing.
The Spanish Verb Conjugation in Present Tense course covers the three conjugation patterns of regular verbs (the –ar, –ir and –er verbs) and some common irregular verbs. You will learn to conjugate verbs in all persons both in affirmative and negative forms. You will also learn to talk about common actions and daily routines. Furthermore, the example phrases will teach you different expressions of time, as well as other useful everyday vocabulary.
Start the new course now, and you will soon notice just how much knowing the verb conjugations will improve and enrich your overall Spanish skills!
In addition to the newly published course, the Comprehensive Spanish package already contains two other grammar courses. The first one concentrates on the use of Spanish "to be" verbs and the other one on pronouns. Don't forget that you learn grammar constantly in other WordDive courses too by paying attention to the example phrases.
If you want to read more on Spanish grammar, you can also visit WordDive's popular grammar pages.
A mighty mix of language learning professionals, engineers, designers, user interface developers, gamers and psychologists.