Eetu Laamanen, 26, started judo among other sports when he was a child. He decided to concentrate on judo when he started a sports high school. Judo seemed to be the most fitting sport to him, he had had some success in it, and compared with other sports, judo is multifaceted.
"In judo I have needed all my skills. Practicing includes many things, not for example only strength or stamina, but a little bit of all aspects. It makes me feel there's still a lot to learn and that I can develop," explains Laamanen.
Whether it's sports, language learning or playing a new instrument, many people run out of motivation after an enthusiastic start. Having spent about 20 years with judo, Laamanen considers objectives and development essential factors in maintaining the motivation.
"It's important to find new incentives and try to feed the motivation. With no goals to achieve, motivation disappears. If you start learning a new language, you can decide to visit a country where the language is spoken. It's also good to have smaller goals on the way even when there's a big one in the end. Otherwise the journey might feel too demanding when there are difficult times," says Laamanen.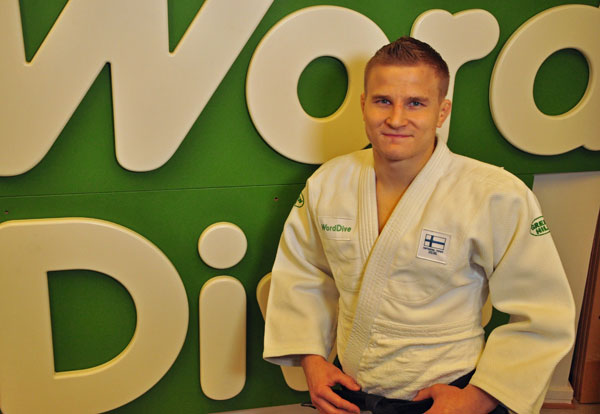 Smaller goals help towards achieving the big one
Laamanen, who's in the under 73 kg category, has won seven Finnish championships, five of which in Adults. Internationally, he has two victories and one silver in the European Cup under his belt. The Olympics in Rio de Janeiro are his next goal. WordDive sponsors Laamanen towards Brazil.
"When I was a little boy, the Olympics were a dream far away in the future, and over time they became a real objective. But there have to be some checkpoints along the way to see what the situation is and whether the big goal is realistic. I've proceeded towards the Olympics little by little," Laamanen says calmly.
He says that in life outside the tatami, lessons learned from judo show as calmness, perseverance and good manners. Development of character and mental growth are an integral part of the sport. Opponents and training partners are always respected, and on the tatami everyone is equal. It takes years of practice to achieve even some level of skills.
"In judo, there's always someone who's better than you, so the ego won't grow too big. You have to develop all the time and be disciplined. There's an etiquette in judo that I have grown up with."
Great success is not needed to feel accomplished and content
Laamanen also needs scheduling skills in addition to judo skills, because on average he practices 10 times a week, usually twice a day.
"A lot depends on the attitude. People have time for things they find meaningful and fun. Getting started is the first hurdle to cross, and it takes some prioritisation schedule-wise," he says.
Like in any other hobby, there are difficult moments also in sports. What is Laamanen's tip for the moments when it feels like there's only little development or none at all?
"Everyone needs to find their own way to encourage themselves. In difficult times I try to think that even though it's hard right now, soon it's going to get better when I reach the next goal or achieve some success. A big part of what I do has to feel good, otherwise I could not continue with it."
One important observation from Laamanen is that feeling good does not require great victories, but the little, everyday moments of success bring him joy. Despite the championships he has won, Laamanen is not able to say what has been the greatest moment in his career.
"When I win a tight match, I feel good about exceeding myself and being able to exceed the opponent in addition to it. But I also feel good after a practice or a camp that went well," Laamanen ponders and smiles.
A mighty mix of language learning professionals, engineers, designers, user interface developers, gamers and psychologists.