Francisco Pelluz, 29, first ended up coming to Finland in 2010 as an exchange student because it was "really far" from his home, Seville in southern Spain. Finland's reputation as an IT country and the fact that Finns speak good English were the other motivators. First he decided to concentrate on improving his English.
"It wasn't difficult to understand people but it was difficult to express my ideas. I understood everything but had a feeling that I'd like to say something more and use different words. I felt misunderstood and couldn't show people how I really was", Francisco recalls.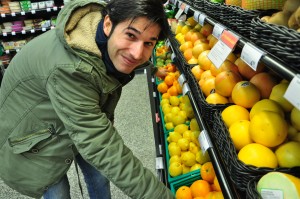 Then his life and goals changed. After a month and half in Finland, Francisco met his Finnish girlfriend. Once his exchange year was finished, they spent a year in Seville, and then returned to Finland. It was time to learn Finnish.
"In Seville, I started to learn Finnish for real. But everything changed when I came back to Finland. I wanted to be able to talk with my girlfriend's grandma and young cousins. After one year in Finland I was also tired of always being the one who had to speak English and was not able to be natural with people. I wanted to learn the language, and besides, my girlfriend is really good at Spanish. That was not fair."
WordDive was addictive and taught the words needed in daily life
As he enjoys reading books, Francisco bought a Finnish grammar book. That gave him an idea of the grammar of the language. At the same time, he had started studying for his Master's, and at the university his teacher introduced WordDive to him during a Finnish course. First Francisco completed a course that was related to his field of study.
"I got really addicted to WordDive. I learned 150 words in two or three weeks," he laughs. "To understand how a language works, you need to be in contact with people and to know the grammar. Knowing the vocabulary is a completely different thing. With WordDive I learned the words."
"Language courses concentrate on grammar, but WordDive gives you the words that you face in real life in your routines and activities. Grammar without words does not work. Soon I realised I recognised all the words in my daily life, and now I get to stand on my own feet."
A dynamic way of learning
One thing Francisco appreciates is the dynamics of WordDive. "Being able to practice on the computer at home, not having to write down words, no need to read and look up every word… It also provided me the basic vocabulary for reading others materials and more complicated texts. Otherwise, it would have been practically impossible and discouraging to face those."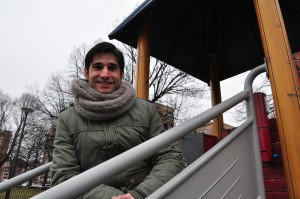 "I used WordDive in the morning while drinking my coffee, then again later during the day, and whenever I felt like it. It made life easier. I learned words during the week, went to my girlfriend's parents during the weekend, and recognized those words there. I felt like wow, I accomplished something, I'm proud."
For the same reason, it is important to Francisco to see how many words he has learned. It provides him strength and the awareness that he's learning. "It fuels my motivation towards keeping on learning more and more", he concludes. "The strength of WordDive is that it combines visual elements, listening and comprehension. It addresses all senses."
Once Francisco has completed WordDive's Finnish course, he's not done with learning – he'll want to improve his English. And Italian. As the Spanish grammar is close to that in Italian, learning vocabulary is what he's looking for, and WordDive will again be the answer.
A mighty mix of language learning professionals, engineers, designers, user interface developers, gamers and psychologists.