The wait is finally over. WordDive's first mobile app for Apple iPhone is now available for download from the App Store.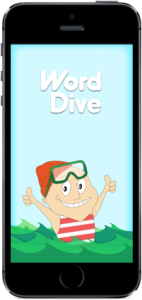 With the new app you are able to learn English, German, Spanish, French, Italian, Finnish, Swedish, Estonian or Russian on the go. At the same time it is easy to switch between devices, if you wish to. Just log in to your WordDive account on your smartphone or your PC and pick up from where you have left off.
In addition to choosing the courses you want to study, in the app you can also set one of the three exercising modes – easy, medium or hard – depending on your level of fluency and your goals.
The app also introduces you to a bunch of new features that will come to the web version in the near future. Now, for instance, you can track your progress in real time and collect rewards for correct answers.
As always with WordDive, you can try any language free of charge for two weeks.
To learn more about the WordDive app, please, click here.
We hope you will now enjoy learning languages with WordDive even more!
WordDive team
P.S. Dear Android users, an app for you comes next. Stay tuned 🙂
A mighty mix of language learning professionals, engineers, designers, user interface developers, gamers and psychologists.