"Definitely aurinko (the sun). It sounds so beautiful and reminds me of the magical AURYN talisman in The Neverending Story", responds the Catalan Rodolfo Garrido Andrés when he is asked about his favorite Finnish word.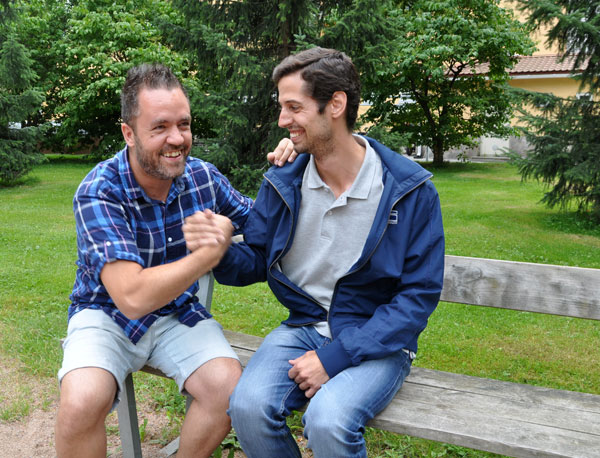 Rodolfo started studying Finnish a couple of years ago when he started going out with a Finn. "I started to learn Finnish out of respect for him. I wouldn't have had to, but I love languages! We are not together any more, but I have continued learning Finnish. I thought it would be a pity if I quit."
Last fall he found a private language school, Institut Nórdic, that teaches Nordic languages and cultures in Barcelona and enrolled in a Finnish course there. Around the same time there was another young man in Barcelona who got intrigued by the Finnish language. David Lozano de Rossello had met a Finnish girl in Dublin and fallen in love with the sound of her peculiar language. "When I heard her speak Finnish, my first thought was: what a gorgeous and challenging language. And how great it would be to learn how to speak it! I started my studies at Institut Nórdic at the same time with Rodolfo", David says.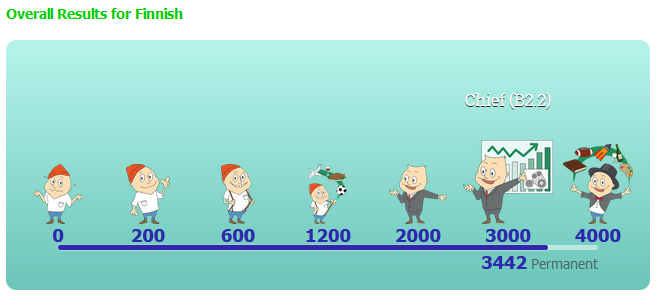 David studied with WordDive about eight months from 1,5 to 2 hours per day. In that time, he advanced from zero to level B2.2. "I completed all the Finnish courses that WordDive has. I practiced at the pace that the program recommended for me. I learned permanently over 3400 words", David says. He thinks studying with WordDive was easy because the study items always included a picture. "I have a visual memory, so the pictures are important. I also remember pretty well when I have to add the dots above the a and the o, because WordDive requires you to spell the words correctly."
David chooses sisu (persistence) as his favorite word, because it is such an essentially Finnish word and also something that is needed if you want to learn Finnish. He is currently studying at the Helsinki Summer University, but will soon return to Barcelona to work for the family business that his father owns.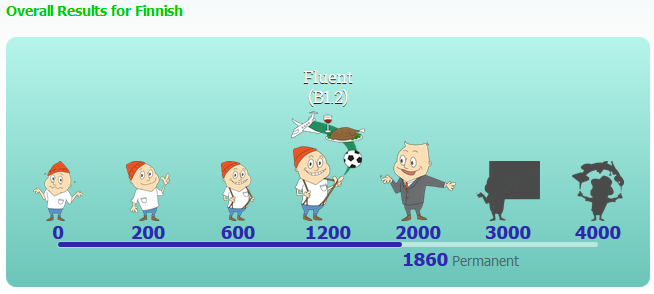 Rodolfo has also been studying quite fast. He has learned permanently a bit over 1800 study items, which means that he will soon reach the independent language user (B2) level. "Sometimes I study up to two hours per day. For me, studying with WordDive doesn't feel like work because I am not consciously trying to memorize anything. I look at inflections in the example sentences and try to understand how the sentences have been constructed. Actually, I love grammar: even before I started my studies at Institut Nórdic, I had ordered a Finnish grammar book from Amazon and downright devoured it."
For Rodolfo this summery trip to Finland was the first, but David had visited Finland already in the winter because he wanted to get a truthful picture of the country. "We visited the Suomenlinna sea fortress in Helsinki and I almost froze to death, even though according to my Finnish friends it wasn't even a cold winter. I had to buy a proper winter jacket here, otherwise I wouldn't have made it", he laughs now.
Like David, Rodolfo has a job in Barcelona. He works in a bookstore, but is looking for a change and planning a move to Finland. He would like to start studying translation and interpretation. "The best thing about Finland is nature. It is impressively beautiful. The midnight sun is amazing!"
Both Spaniards think Finns are friendly and helpful, especially when you try to talk to them in Finnish. "By using the local language you somehow get closer to people. It breaks the ice and makes you realize that maybe we are not that different after all", Rodolfo says.
A mighty mix of language learning professionals, engineers, designers, user interface developers, gamers and psychologists.