WordDive share issue is open from 19th March to 20th April 2018
Breakthrough in learning speaking skills
WordDive is about to take digital language learning to a completely new level worldwide. Last year, we developed a prototype of an innovation that teaches foreign language oral skills with a mobile application. The innovation is based on artificial intelligence that is able to recognize pronunciation errors affecting understandability and give personal instructions on how to improve.
The ability to speak fluently is the primary customer need in the language learning industry, so the innovation has a high business potential. We are the first player on the market that is able to meet this need with a complete package.

Revenue growth
WordDive Ltd. has increased its revenue tenfold in four years, from 140 000 euros to 1,42 million euros. With this new innovation and the funds raised now, our next goal is to again increase the revenue tenfold in three years – in other words, to exceed 14 million euros in revenue in 2020.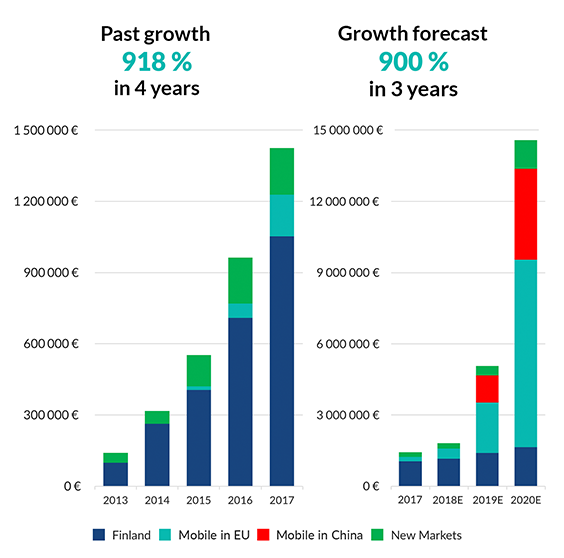 Would you like to be a part of the WordDive success story? Our share issue is open from 19th March to 20th April 2018.
Here's how you can invest:
Read through the investment material at around.fi/worddiveai (the English materials will be published by Wednesday 20th March)
On the last page, click "Subscribe".
Choose the amount of money you want to invest by rolling the yellow wheel. Click "Make an investment".
Check that the subscription is correct. Click "Make payment" and accept the terms.
Sign in, create an account or subscribe as a new user.
When creating a Privanet account, you need a Finnish Online ID. If you don't have one, you need to fill in, print and sign this contract: 20170912-Customer_Agreement. Then you need to submit it as an attachment together with a photocopy of your passport with two signatures of witnesses.
Small investments can be made without registering as a Privanet customer. Just choose "Subscribe as a new user" and fill in the "Underwriting of shares". You still need to send Privanet a photocopy of your passport with two signatures of witnesses.
Please remember that all investments carry a risk of losing capital. Invest responsibly. If you have questions related to investing, please contact us by sending an email to owner@worddive.com.
A mighty mix of language learning professionals, engineers, designers, user interface developers, gamers and psychologists.