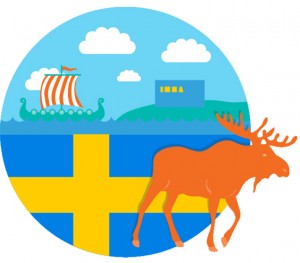 Hurra! Great news: we have again broadened the selection of our popular Swedish courses. This time the new courses concentrate on grammar, and they are especially aimed at elementary level Swedish students. The newly published courses focus on two important aspects of basic grammar:
Pronouns
Pronouns are often needed to express even the most simple daily matters. Hence, it is a good idea to pay attention to them already in the beginning of your language studies. The Pronouns course will teach you how to use Swedish personal pronouns in their nominative, objective and possessive forms (I, me, my, etc.) and other common pronouns (e.g. someone, no one, everyone).
Present and Past Tense
You will see a big leap forward in your language proficiency once you learn how to express whether something is happening now or in the past. As the name implies, the Present and Past Tense course concentrates on Swedish verb conjugation in present and past tense. The goal is learning to use both present and past tense in everyday language use situations as soon as possible. The verbs studied on the course contain common verbs from all four Swedish verb conjugation groups.
In addition, both courses will teach you useful vocabulary and phrases as well as common expressions of time and space through the example sentences. As the courses are designed to boost beginners' Swedish studies, the sentence structures are generally simple, with a thematic focus on normal everyday events.
The courses will be added to the Comprehensive Swedish course package, and it is recommendable to take them pretty soon after starting your Swedish studies – ideally after Swedish 2 and before the verb courses.
A mighty mix of language learning professionals, engineers, designers, user interface developers, gamers and psychologists.