Wir haben einen neuen Finnischkurs veröffentlicht: Business Finnisch. In diesem Kurs lernst du, über Arbeit und Handel auf Finnisch zu diskutieren.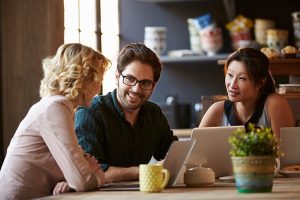 Der Kurs enthält die folgenden Themen:
Marketing
Verkauf
Strategie
Logistik
Projekte
Besprechungen
Organisation
Personalwesen
Hast du Geschäftsbeziehungen zu Finnland? Oder vielleicht lebst du in Finnland und suchst eine Arbeit? Erweitere deinen Business-Wortschatz, steigere dein Selbstbewußtsein und bereite dich darauf vor, Finnisch in deiner Arbeit zu verwenden.
P.S. Der neue Kurs eignet sich für Finnischlerner mittleren Niveaus. Als Teil des Komplettpakets Finnisch wurde er für Nutzer dieses Pakets bereits automatisch hinzugefügt.
A mighty mix of language learning professionals, engineers, designers, user interface developers, gamers and psychologists.