Vi har publicerat en ny kurs i finska: finska för företag. I den här kursen får du lära dig att kommunicera om sådant som har med arbete och affärsverksamhet att göra.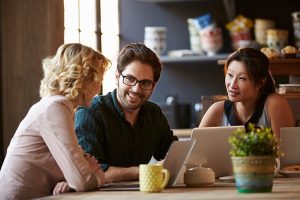 Kursen inkluderar följande ämnen:
Marknadsföring
Försäljning
Strategi
Logistik
Projekt
Möten
Organisation
Personalresurser
Gör du affärer med finnar? Eller bor du kanske i Finland och söker jobb? Utöka din företagsvokabulär, få bättre självförtroende och gör dig redo att använda finskan på jobbet.
PS. Den nya kursen passar elever i finska som har kommit en bit på vägen. Kursen ingår i det heltäckande kurspaketet i finska och har redan lagts till i den aktuella kurslistan.
A mighty mix of language learning professionals, engineers, designers, user interface developers, gamers and psychologists.