När man studerar ett främmande språk på datorn eller mobiltelefonen dröjer det inte länge förrän man upptäcker att man behöver specialtecken som inte finns tillgängliga på ens ordinarie tangentbord. Hur sätter man ut accenttecken? Och hur skriver man tyskans ß eller spanskans ñ?
Vi har förbättrat våra grammatikkurser genom att utrusta dem med en funktion som låter dig klistra in specialtecken direkt i övningsfönstret. Allt du behöver göra är att klicka på menyn specialtecken och välja bokstaven/tecknet du behöver – så enkelt är det!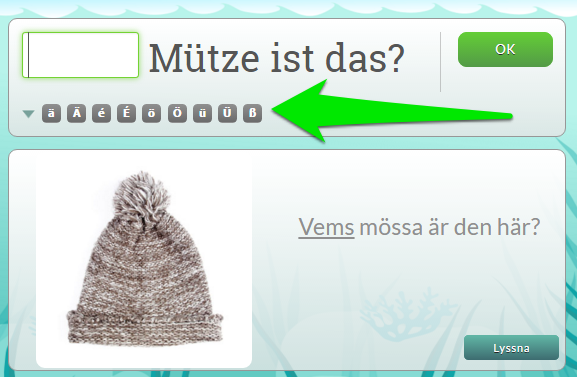 Du kan även konfigurera ditt tangentbord till att använda språket du studerar eller lära dig hur du skriver enskilda tecken med hjälp av olika snabbkommandon. Om du studerar ryska, japanska eller kinesiska, se WordDives språkspecifika snabbguider för information om hur du installerar individuella skrivsystem på din dator.
TREVLIGA STUDIER!
A mighty mix of language learning professionals, engineers, designers, user interface developers, gamers and psychologists.