Se hit, grammatikentusiaster! Efter framgången med WordDives engelska, spanska och finska grammatiksidor har vi nu glädjen att presentera WordDives nya, kostnadsfria guide till svenska grammatik.
Svenskan består, precis som engelskan, av relativt tydliga grammatiska regler. WordDive har sammanfattat tio av de viktigaste svenska språkreglerna i en lättförståelig svensk grammatikguide.
Varje sektion fokuserar på ett individuellt område. Du kan antingen klicka på ett ämne du är intresserad av eller läsa igenom alla i din egen takt i den ordning de presenteras. Vår nya grammatiksida ger dig en kortfattad och tydlig inblick i det svenska språket.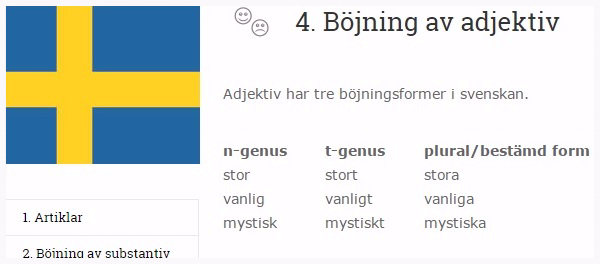 Är du intresserad av att lära dig svenska eller förbättra dina språkkunskaper? Har du kanske en vän som pluggar svenska och behöver hjälp? Ta dig en titt på våra svenska språkkurser!
A mighty mix of language learning professionals, engineers, designers, user interface developers, gamers and psychologists.