We are happy to inform you that version 1.0 of the WordDive application for Android is ready! It is now available for all our users.
You can download the new version 1.0 on your Android phone or tablet and start exercising right away! The app includes the following features, among others: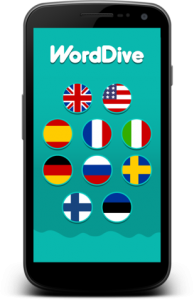 Clear, user-friendly design
Performance: Improved speed
Three different exercise modes: Easy, Medium and Main Exercise.
In-app purchases: Buy your courses directly in the app
Use the app on your Android smartphone or tablet
With the new app version 1.0, you can purchase courses and download the app in Google Play Store. Get the app by clicking the link below:
We want to thank all our Android users for your patience – enjoy studying with the app!

If you already have a WordDive user account, you can log in directly from the start screen.
A mighty mix of language learning professionals, engineers, designers, user interface developers, gamers and psychologists.