Wir freuen uns sehr, dir mitteilen zu können, dass die Version 1.0 unserer Android-App fertig und nun für alle Nutzer zugänglich ist!
Du kannst die neue Version 1.0 auf dein Android-Handy oder Android-Tablet herunterladen und sofort mit dem Üben starten! In der neuen Version gibt es unter anderem folgende Features: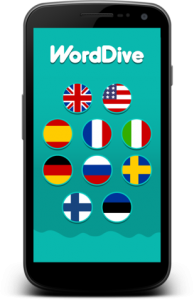 Klares, nutzerfreundliches Design
Leistung: Schnelle Funktionsgeschwindigkeit
Drei verschiedene Übungsmodi: Leicht, Medium und Hauptübung
In-App-Käufe: Deine Kurse kannst du nun direkt über die App kaufen
Die App ist auf Android-Handys und Android-Tablets verwendbar
Klicke auf untenstehenden Button und hol dir die neue App:

Wir bedanken uns bei allen Android-Nutzern für ihre Geduld und wünschen viel Spaß beim Sprachenlernen!
Hinweis: Besitzt du bereits ein WordDive-Nutzerkonto, so kannst du dich damit direkt einloggen.
A mighty mix of language learning professionals, engineers, designers, user interface developers, gamers and psychologists.