Wusstest du, dass die schwedische Sprache über fünf verschiedene Substantivgruppen verfügt? Zusätzlich zum korrekten Artikel (en oder ett) ist es wichtig, auch zu wissen, zu welcher Gruppe ein Substantiv gehört, um es korrekt deklinieren zu können.
Wenn du zum Beispiel weißt, dass das Wort en skola (Schule) zur Substantivgruppe 1 gehört, dann weißt du auch, dass der unbestimmte Plural skolor ist.
In den Übungen haben wir die Substantivgruppen für jedes Substantiv nach dem Wort mit einer Zahl in Klammern markiert (siehe Bild unten).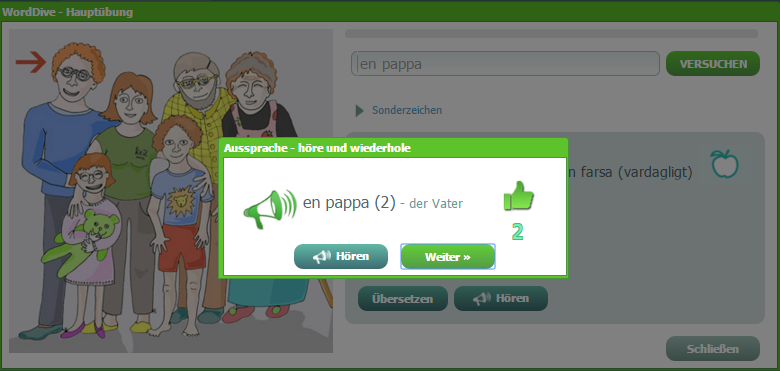 Wir empfehlen, mit jedem Substantiv auch die Gruppe zu lernen. Lies mehr zu den fünf Substantivgruppen im Grammatikführer Schwedisch.
Wir beginnen jetzt, die Zahlen nach und nach zu den Übungen hinzuzufügen. Die ersten Zahlen wirst du wahrscheinlich in den fortgeschritteneren Kursen finden.
Die Zahlen sollen dir dabei helfen, so viel wie möglich von deinem Lernen mit WordDive zu profitieren. Du musst die Zahlen in den Übungen nicht schreiben, sondern sie werden automatisch angezeigt, nachdem du korrekt geantwortet hast.
A mighty mix of language learning professionals, engineers, designers, user interface developers, gamers and psychologists.