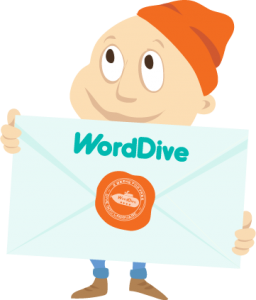 Vi hoppas att du har trivts med dina studier här hos WordDive! Tror du att dina vänner också skulle vilja bättra på sina språkkunskaper? Övertyga en kompis att testa en av våra gratiskurser och få ett presentkort med två veckors studietid.
Besök vår nya rekommendationssida för att bjuda in dina vänner att testa WordDive. Om din kompis aktiverar gratiskursen får du en kostnadsfri licensnyckel för två veckors studier med valfritt heltäckande kurspaket.
Du kan använda nyckeln för att förlänga din nuvarande prenumeration eller välja att testa ett nytt språk.
Klicka på knappen nedan för att besöka rekommendationssidan och få mer information:
Bjud in dina vänner att testa WordDive
PS. Du kan även hitta länken till rekommendationssidan i sidfoten på WordDives webbplats när du är inloggad.
A mighty mix of language learning professionals, engineers, designers, user interface developers, gamers and psychologists.