Varje år utser tidningen Red Herring de hundra bästa nyetablerade företagen i Asien, Europa och Amerika. I april 2015 lyckades WordDive ta sig in på den europeiska listan.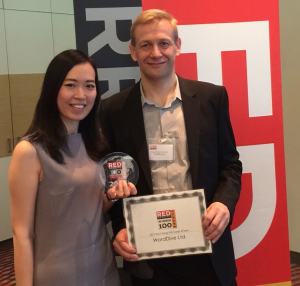 En viktig faktor som ledde till WordDives inkludering på listan var företagets preparandkurs i engelska på gymnasienivå. I Finland och Tyskland skulle 94 % av studenterna som genomförde kursen våren 2015 rekommendera den till andra, medan 96 % ansåg att den var bättre än läroböckerna.
Listan baseras på ett antal olika kriterier, bland annat ekonomisk prestation, teknisk innovation, ledarskapsförmåga, övergripande affärsstrategi och marknadspenetration. Företag som Facebook, Twitter, Google, Yahoo, Skype, YouTube, eBay och Supercell är bara några av de företag som har varit med på listan under tidigare år.
"Det är aldrig lätt att välja bland de nyetablerade företag som visar mest tillväxtpotential," berättar Alex Vieux, ansvarig utgivare och VD för Red Herring. "Vi tittade på hundratals kandidater från hela kontinenten. Efter mycket eftertanke och debatt kunde vi äntligen enas om de hundra bästa. Tävlingen blir tuffare för vart år som går, men vi anser att WordDive demonstrerar det driv och den vision och innovation som kännetecknar en Red Herring-vinnare."
A mighty mix of language learning professionals, engineers, designers, user interface developers, gamers and psychologists.