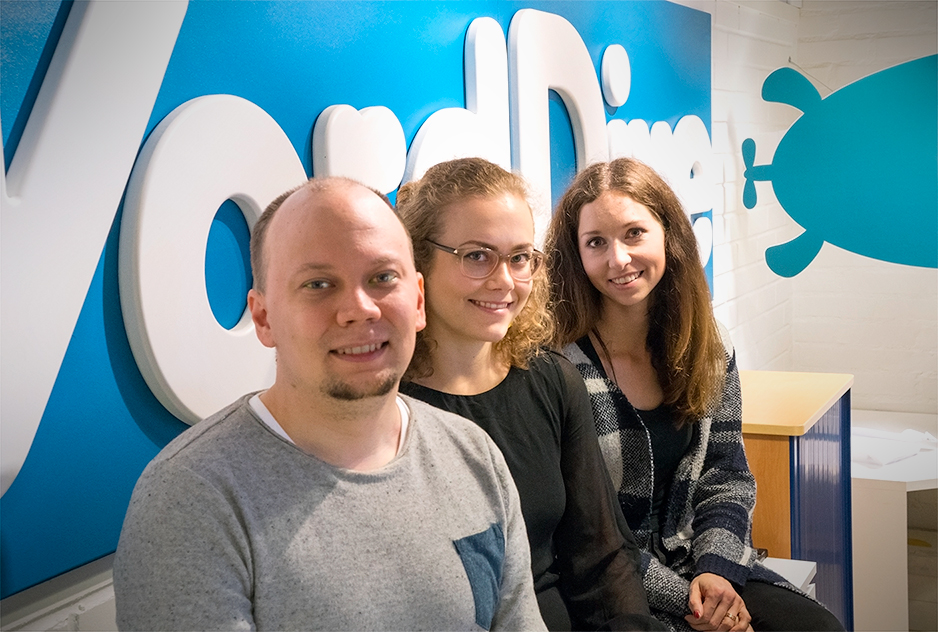 Have you ever wondered what kind of people are working at WordDive, or what it would be like to work here?
You may have already heard the story of our founder and CEO, Timo-Pekka Leinonen. In addition to Timo-Pekka, our core team consists of professionals in linguistics, pedagogy and mobile-oriented product development. We have around 15 people here at the office, and in addition to that we have a part-time network of 20 native voice models, translators and proofreaders spread around the world.
Our office in Tampere are decorated with turquoise submarines and huge Mikko figures, filled with sounds of the coffeemaker bubbling, keyboards clicking and people murmuring to each other – the soundscape of us creating a better user experience and more courses for you.
Today you'll get to make closer acquaintance with three of our team members who work on very different areas.
Let's start with our French expert Clotilde, who is the newest addition to our team.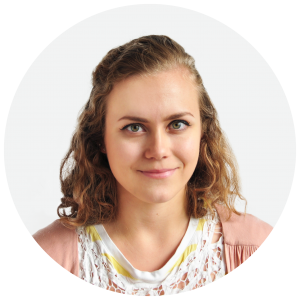 Clotilde
"Hi everyone! I'm Clotilde and I'm studying English language and literature, French, Spanish and pedagogy at the University of Tampere.
I was born in Paris and have two native languages: Finnish and French. Languages have been a big part of my life ever since I was born. I've always felt that learning a new language opens up new ways of thinking because language and culture are so closely connected. I believe that language learning shapes one's personality, and I don't think I would be the same person if I only knew one language!
I started working at WordDive in August and really enjoy working here. The work environment is really positive and everyone is always ready to help.
In addition to languages and traveling, I absolutely love dancing and watercolor painting.
Feel free to follow my art account sayitwithcolours on Instagram."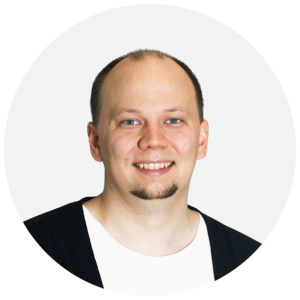 Atte
"Hi, my name is Atte and I work as a UX designer and product lead for our mobile app.
I studied software engineering, game design and media management. I've worked at WordDive for 7 years. The best thing about working at WordDive is that I have a real chance to make a big impact and even make quite bold moves to create the best possible user experience for our customers.
In my free time, thanks to having a small daughter, I've become a frequent visitor at playgrounds. I also play in a cover band with my friends, and we do some gigs every now and then just for fun. Obviously I like to learn new languages: at the moment I'm working on basic French.
When I was a child, English really opened up the internet for me. I was able to play games and communicate with the international gaming community already at a young age. Later my language skills enabled me to live and study abroad.
If you like, you can follow me on Twitter: twitter.com/attehynninen"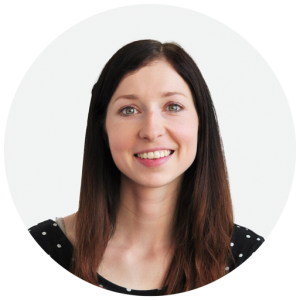 Juliane
"I'm Juliane and I'm from Germany. I went on an exchange to the Czech Republic during my studies and met a Finnish guy there on a language course. Shortly after coming back, I said "tschüss" to Germany and "I do" to the Finnish guy.
In Germany I studied theatre studies, comparative literature and European ethnology, but here at WordDive I work mostly on customer support, proofreading study material and translating newsletters.
As cheesy as it sounds, learning languages opens doors. The culture, humor and manners are often conveyed through the language. Nowadays I get the Finnish jokes too and don´t have to look so puzzled when someone says something funny and the whole group bursts into laughter. I would still say I'm funnier when I speak German or English, but my husband has reassured me that sometimes I make a good joke in Finnish as well!"
Are you interested in working at WordDive?
We have hired several new employees this year and are currently looking for a couple of clever software engineers to join our team. Keep an eye out for open positions at worddive.com/en/open-positions
A mighty mix of language learning professionals, engineers, designers, user interface developers, gamers and psychologists.