Tarja, eine Bloggerin und Journalistin aus Deutschland, hat sich mit WordDive das Finnischlernen erleichtert. In ihrem Blogeintrag erzählt sie unter anderem davon, wie schwer es ist, Finnisch zu lernen und was die Besonderheiten der finnischen Sprache sind.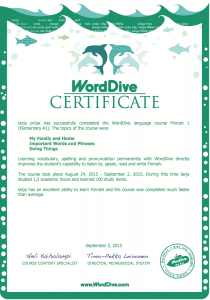 Mit WordDive hat Tarja endlich einen Service gefunden, der ihr dabei hilft, mit dem Finnischlernen schneller voranzukommen. Sie berichtet über ihre Erfahrungen mit WordDive:
"Mir haben die ersten beiden Kurse sehr viel Spaß gemacht, weil das Lernen sehr spielerisch erfolgt. Schreiben, Lesen, Hören, Sehen – alle Sinne werden aktiviert. Auch sagt einem das Programm, wann die optimale Lernzeit vorüber ist und dass es wenig Sinn macht, darüber hinaus zu lernen. Und deine individuellen Lernfortschritte werden regelmäßig in Grafiken aufgelistet. All das motiviert ungemein."
Den gesamten Blogeintrag findest du hier: http://tarjasblog.de/Finnland/finnisch-leicht-gemacht/
Tauche in die Sprache ein!
A mighty mix of language learning professionals, engineers, designers, user interface developers, gamers and psychologists.