WordDives Finnische Grammatikseite ist von den Nutzern wunderbar aufgenommen worden. Jetzt möchten wir euch stolz unseren neuen Verbkurs Finnisch, die Konjugation der Verben in der Vergangenheitsform, als Teil unseres Komplettpakets Finnisch vorstellen.
Vielleicht sind dir schon ein paar finnische Verben bekannt, aber um sie tatsächlich in einem Gespräch anwenden zu können, muss man ihre Konjugation beherrschen. Finnische Verben sind von Person zu Person, sowohl im Singular als auch im Plural, unterschiedlich. Das ist aber noch nicht alles, denn finnische Verben ändern ihre Endungen auch in den verschiedenen Zeiten.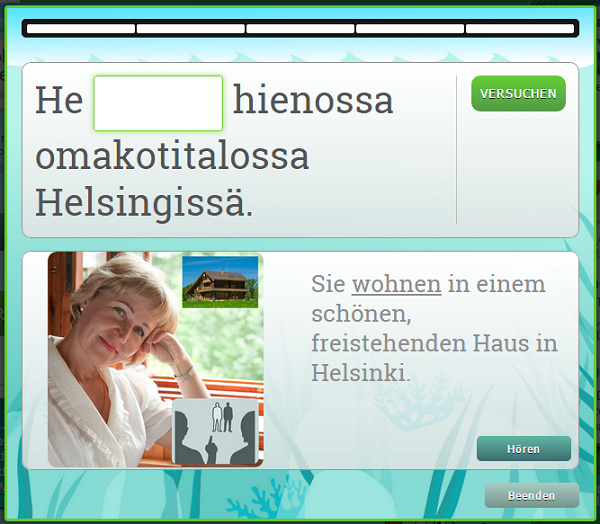 WordDive hat wichtige Vertreter aller sechs Verbgruppen ausgewählt und zwei Kurse für finnische Verbkonjugationen zusammengestellt – einen für die Gegenwart und einen für die Vergangenheit. Du lernst die positiven und auch die negativen Verbformen. Weil man diese Verbformen im Alltag ständig hört, ist es wichtig, sie zu kennen.
A mighty mix of language learning professionals, engineers, designers, user interface developers, gamers and psychologists.