Träumst du schon von deinem Sommerurlaub?Jetzt ist der richtige Zeitpunkt, um deine Sprachkenntnisse für den Auslandsaufenthalt aufzupolieren.
Fang mit WordDives Komplettpaket britisches Englisch an und stelle als Ziel Reisen ein, damit du mit die passenden Kurse zum Thema Urlaub und Reisen lernst.
Nach dem Weg fragen, Essen in einem Restaurant bestellen oder ein Auto mieten – all diese Dinge sind einfach, wenn man die korrekten Ausdrücke beherrscht! Mit Reisen als Lernziel in deinem Komplettpaket lernst du alle wichtigen Begriffe und Sätze für dieses Thema, so dass du im Urlaub mit den Einheimischen vor Ort kommunizieren kannst.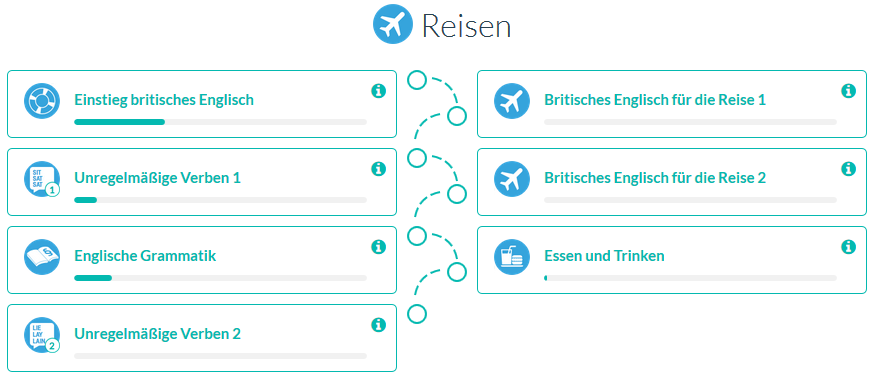 Falls du deinen Urlaub woanders verbringst, hat WordDive auch Komplettpakte in Französisch, Spanisch, Italienisch and vielen weiteren Sprachen.
P.S. WordDive bietet für die meisten Sprachen auch kleinere Kurspakete für die Reise an. Diese Kurse enthalten weniger Material als das Komplettpaket und konzentrieren sich auf das Basiswissen, um am Urlaubsort zurechtzukommen.
A mighty mix of language learning professionals, engineers, designers, user interface developers, gamers and psychologists.